A perfect match in HSE risk management
Our partnership with ecoPortal presents organisations with a simple and holistic approach to keeping their systems and procedures relevant and compliant.
In our previous article, ecoPortal: modern HSE management (link), we outlined the features and benefits of the quality risk and sustainability management platform.  This article explores how the information from Environment Essentials seamlessly integrates with ecoPortal, helping organisations achieve HSE risk management success.
---
How the integration happens
The legal obligation summaries from our online directories, EnviroLaw or SafetyLaw, are integrated into the smart forms in ecoPortal.
To make this happen, you just need to stipulate which forms and the ecoPortal team will work their magic to integrate Environment Essentials content into ecoPortal. Integrating the legal obligation summaries into your registers, records, documents then becomes as simple as clicking a button and making a selection.
The bonus part is that as our legal obligation summaries are automatically updated, these changes will also be reflected in your ecoPortal forms, meaning they will remain current for their lifetime.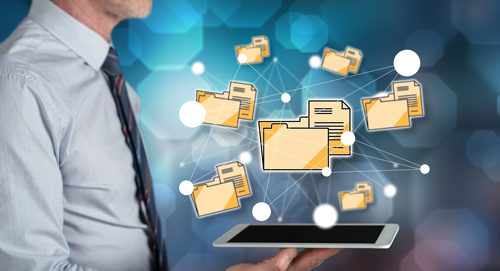 The benefits of integrating legislation into forms
Provide evidence of compliance: A concise way to show auditors that your processes and procedures are compliant with current legal obligations.
Reduce risk with education and awareness: An effective way to educate staff, stakeholders and contractors, by highlighting your operations' legal requirements.
Increase importance with practical information: Some legal obligations include links to guidance documentation, so staff, stakeholders and contractors have access to practical information that further highlights the necessity to comply.
Add simplicity to your workload: With the legal obligations automatically updated, you don't need to waste time researching endless websites for the latest requirements.
Streamline and increase efficiency: By streamlining your business documents, data and legal obligations in one location, allows your team to work more productivity.
Get your time back: Integrating legal obligation summaries into forms is a quick and seamless process that you may only need to do once, giving you time to focus on your other daily tasks.
---
Integration in action – two simple steps
Step 1:
Within the form, click the button "ATTACH OBLIGATIONS".
For this example we have used a form within a risk register for Manual Handling. 
(Click on image for better viewing)
Step 2:
Using drop down menus, search for the legal obligations by product, jurisdiction, category and topic. Or, you can search by typing the obligation title.
Select the relevant obligation(s) and click "DONE".
(Click on image for better viewing)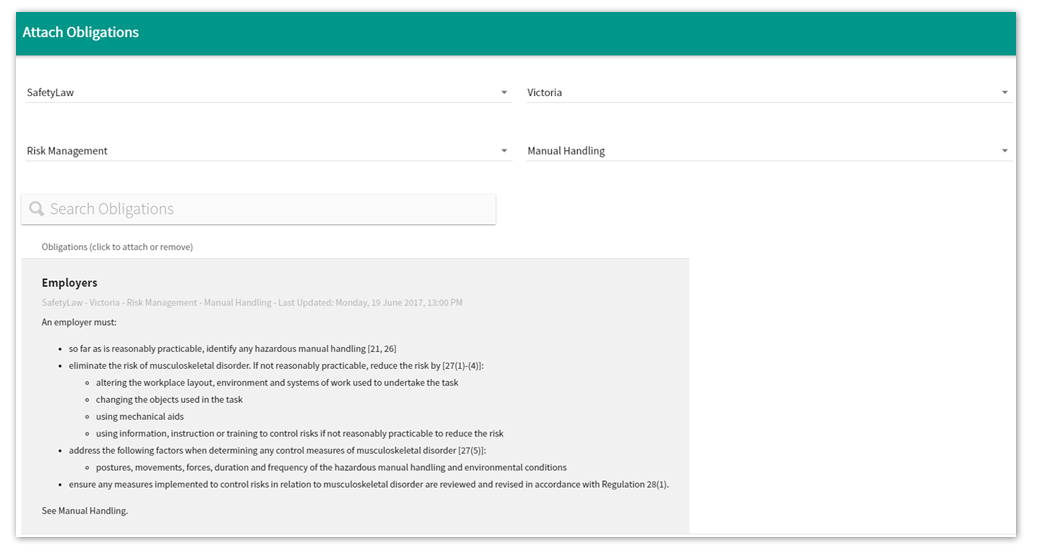 As easy as that, the obligation(s), along with links to source publications, appear in the relevant form for future reference.
(Click on image for better viewing)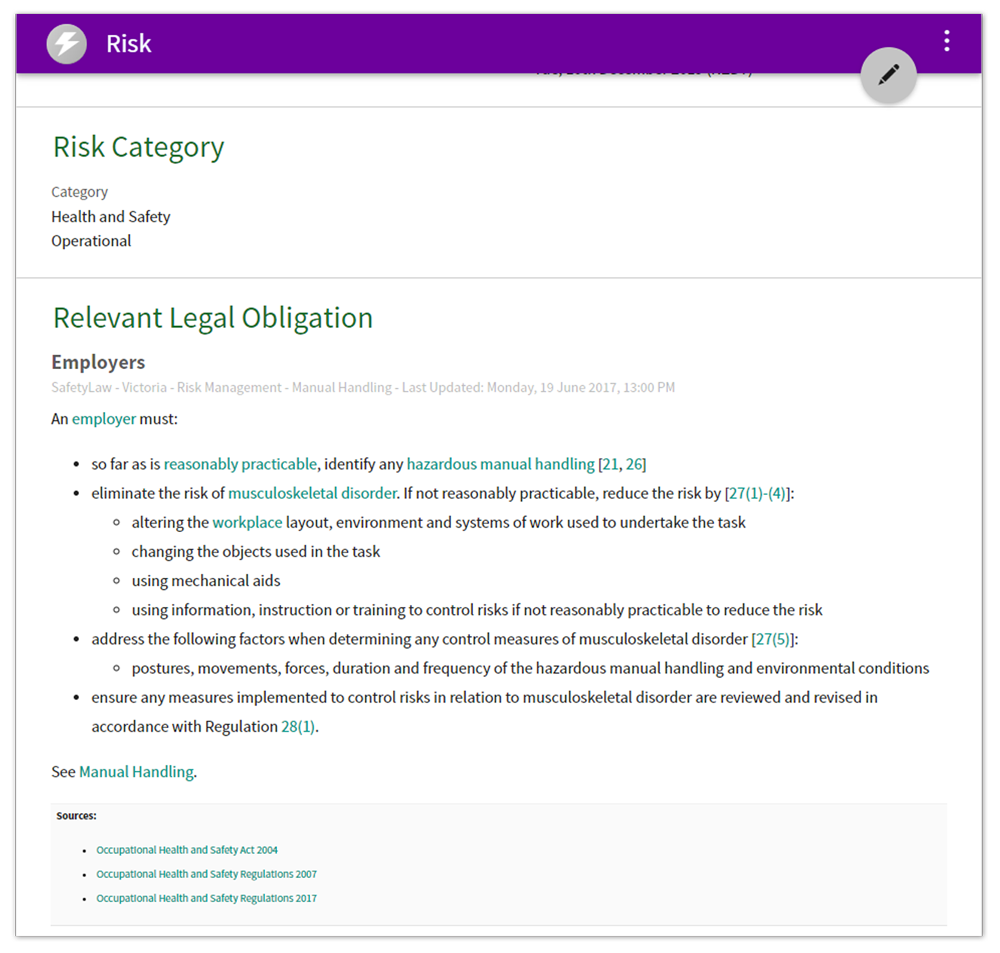 ---
For a demo of ecoPortal, contact Kirstie Le Quesne on (03) 9095 6533 or at kirstie.lequesne@enviroessentials.com.au