Meet and exceed your environmental legal requirements

EnviroLaw is an online directory where you can identify, understand, and integrate your environmental legal requirements from one easy-to-use platform.
Achieve your environmental policy goals by accessing the most current environmental compliance obligations in Australia and New Zealand.
All your environmental legislation and regulations covered
Pinpoint your exact environmental requirements with easy-to-read summaries grouped into core categories and further divided into topics.
Air
Biodiversity
Energy Use
Hazardous Materials
Heritage
Land
Marine
Mining and Petroleum
Noise
Sewer
Waste
Water
Break through the environmental legislation jargon
Understand your environmental legal requirements with easy-to-follow summaries that also provide links to the source legislation including environmental Acts, environmental Regulations and codes of practice.
Avoid any confusion with definitions, or additional information, provided for ambiguous or generic terms in each environmental compliance obligation summary.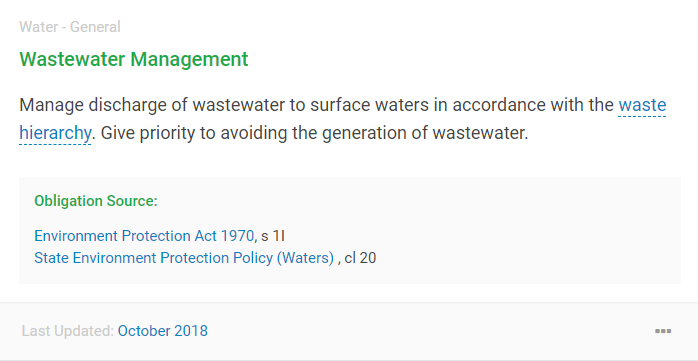 Stay informed with environmental legislation updates
Get the latest updates to environmental legislation and regulator publications with our environmental legislation update service.
Review your environmental management systems and processes against the most current legislative changes.
Incorporate the relevant changes into your environmental policies and procedures ensuring they are always compliant with current and new legislation.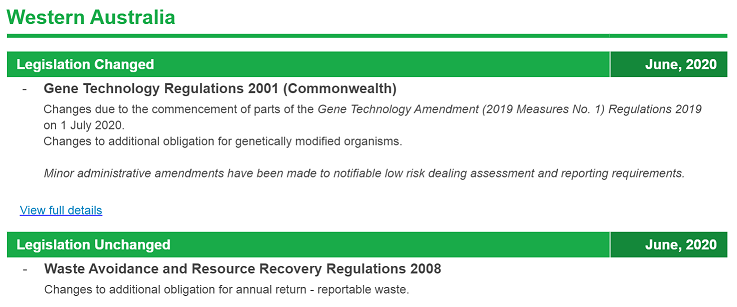 Maintain environmental compliance documents
Insert a topic or individual summary straight into your procedural documents and environmental management plans with EnviroLaw's feature Copy Links.
Link information with a quick one-time set up and have confidence that your documents will maintain accuracy with automatically updated requirements.
Give employees greater visibility to their environmental responsibilities with instant access to the most current environmental legal requirements.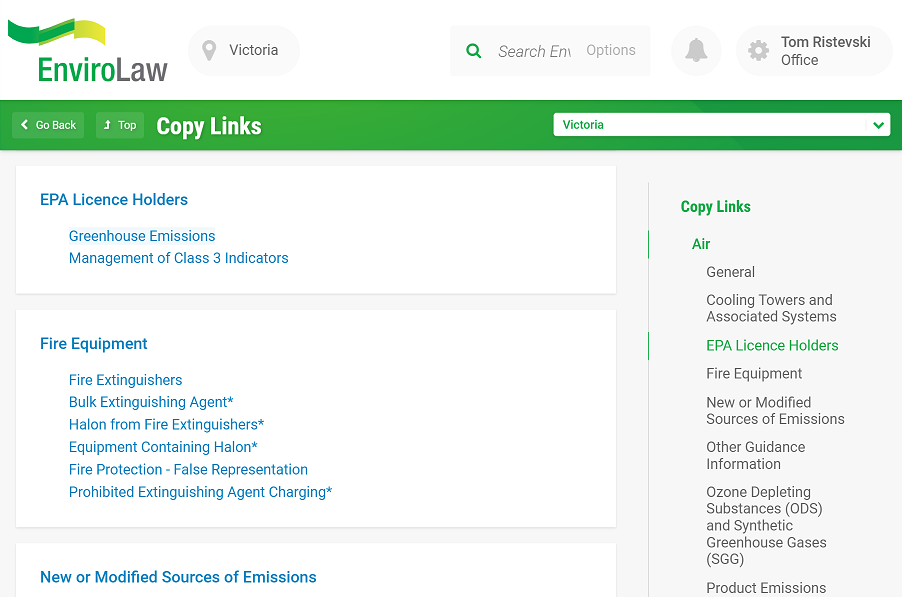 Export environmental legal compliance audit checklists
Export environmental legal requirement summaries into checklists from one central location.
Have the most current environmental legal requirements ready to use – to conduct internal legal audits, to measure environmental compliance performance or to demonstrate  compliance to auditors.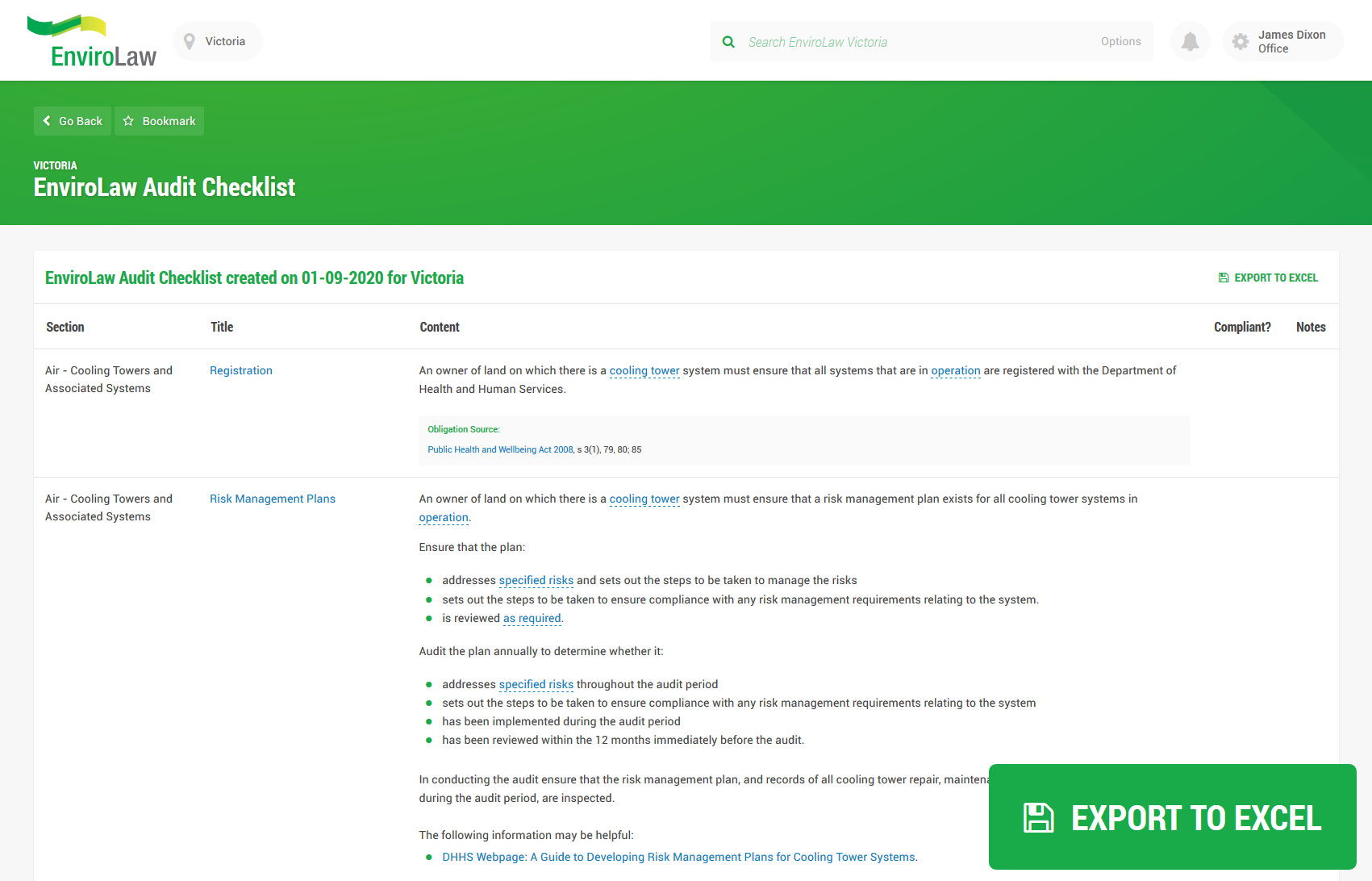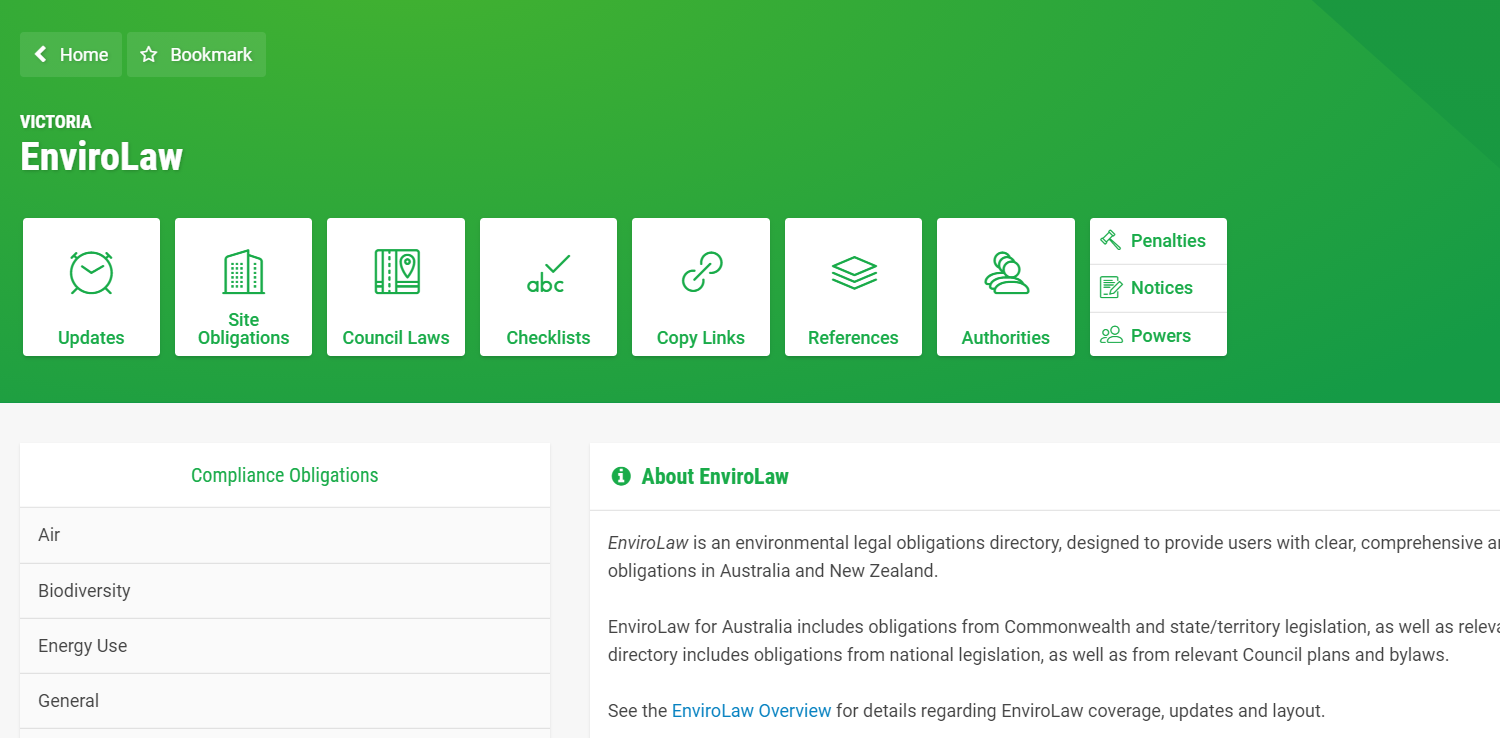 Flexibility and support to make the most of your subscription
Add site licences and agreements
Product training to all subscribers
Satisfy your ISO 14001:2015 legal requirements
Clause 6.1.3 - Identify your environmental compliance obligations
EnviroLaw has easy-to-read summaries of environmental obligations grouped into core categories.
Each summary includes links to additional publications, sources, and term definitions for ease of understanding.
Our Help Desk provides expert knowledge on environmental legislation.
Clause 6.1.3, 9.3 - Update your environmental compliance obligations
Our environmental legislation update service keeps you informed of current and upcoming legislation and regulator publications with monthly email alerts.
The changes are marked up so you can see what has been edited, added or removed from legislation, and can be exported and used for auditing and tracking purposes.
Clause 6.1.3 - Determine how your environment compliance obligations apply to your organisation's aspects
EnviroLaw's Copy Links feature lets you insert your compliance obligation summaries straight into your Aspects and Impacts Register providing proof of compliance.
Clause 9.1.2 - Periodically evaluate your compliance with your environmental compliance obligations
Sourced from Commonwealth, State and Council environmental legislation, the compliance obligation summaries have accurate and current detail to assess compliance.
EnviroLaw's Checklists feature lets you export your compliance obligation summaries from one place to use for conducting internal legal audits, gap analysis and measuring environmental compliance data.
Keolis Downer have been using Environment Essentials for 5+ years now and thoroughly enjoy their products – EnviroLaw, SafetyLaw and Compliance Register. We have found working with the team at Environment Essentials an absolute pleasure, and are able to source the information we need to ensure we stay on top of all of our legal and other obligations. Being able to tailor the product to our industry (transport) and sector (public transport) has been incredibly beneficial in not only understanding the general requirements and expectations of us and every business, but those specific industry related obligations.
Kris Kokot, Business Management Systems Manager, Keolis Downer
We're proud to assist the following organisations with their environmental legal compliance