How to implement "life cycle perspective"
I previously wrote a post on the "life cycle perspective" required by ISO 14001:2015. In this follow-up post, I will suggest how you might implement and document this life cycle requirement in your EMS.
The purpose of life cycle perspective is to influence environmental performance beyond the organisation's own operations by influencing third parties such as suppliers and customers.
---
The life cycle perspective will cover different issues in different businesses.
For a manufacturer, the emphasis might be on raw materials and use of its products by customers. For a service company, the life cycle might be focus on the influence it can have on customer behaviour and decisions.
So the first step in implementation of life cycle perspective is to identify where your organisation might have influence with third parties. This influence may be direct or, for example, via choosing suppliers with good environmental credentials.
As an example of how consideration of life cycle perspective might be documented, the table below has been compiled for a concrete producer. The column headings reflect environmental effects/benefits and the rows highlight the main life cycle issues (in this case raw materials and product issues). The lower half of the table lists improvement suggestions – these might later be selected in EMS objectives. (The row and column headings will be different for other businesses.)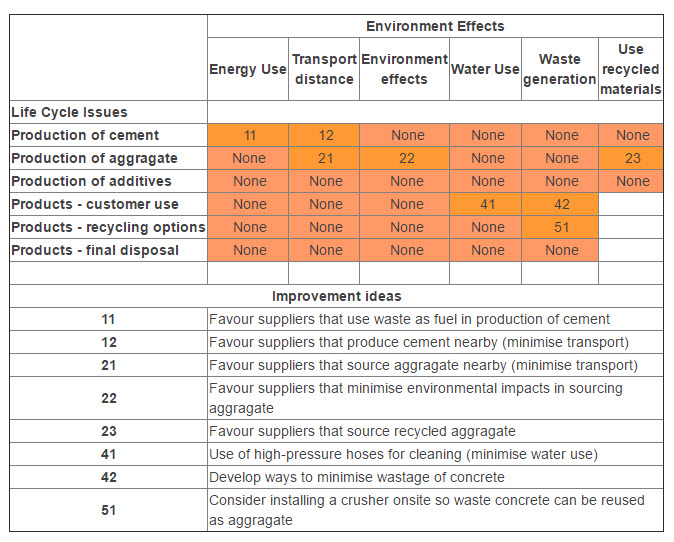 This is simply one way that the life cycle perspective may be documented, and 14001:2015 offers flexibility in doing this any way you like. This table doesn't include the organisation's own activities – these will be covered in the Environmental Aspects Register. It may be useful to also incorporate the information from the table into this register.